Read what the panel has heard
Read the
Panel's Report
Here
Welcome
Welcome to our Conversation Hub. It's a main gathering space where all of the Royalty Review Advisory Panel's work intersects. And it's where we hope to have some thoughtful conversations with you and your family.
You're a big part of this effort. As owners of our province's energy resources, Albertans have a big stake in getting the royalty framework right.
We want to know what results you expect from the royalty framework, and what you think the fundamentals need to be. As Albertans, we know you won't be shy in sharing your frank and honest opinions with us. In fact, we're counting on it.
Keep coming back to the Hub. As we learn and listen, we'll be putting up lots of fresh content and looking for your help on a number of fronts.
THE RIGHT CONVERSATION NOW
It's no secret that the energy sector is important to Alberta and Alberta families. We get a lot of benefits from energy. But there are diverse opinions about whether the current royalty framework is resulting in a good deal for our province.
The world has also changed a lot in the past five to ten years. There are new technologies, new players, and new competitors in the global energy business. Energy markets have changed, and how people view energy has changed.
It makes sense to take a good look at our royalty framework and make sure it's keeping with the times.
With that in mind, the Royalty Review Panel is going to identify opportunities to optimize Alberta's royalty framework, in keeping with our mandate.
HOW WE'RE GETTING IT DONE
Over the next several months, the Panel is going to be speaking with and listening to a lot of people and organizations, including companies in the energy sector, environment organizations, labour organizations, Aboriginal leaders, business groups, and governments.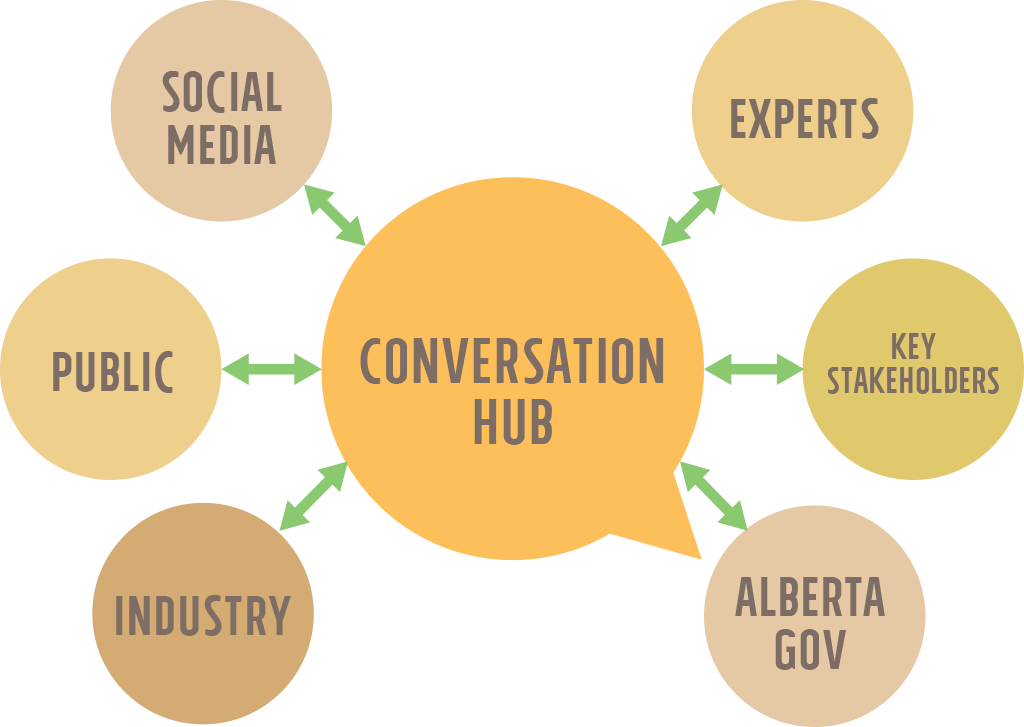 We're also going to be consulting with a number of experts so that we can understand all of the technical, financial and economic implications around energy royalties.
We're also going to be having conversations with Albertans — through public sessions, interactive online opportunities, social media, and here in the Conversation Hub.
All of this learning and listening is going to come together, here in the Hub, and inform the Panel as it finds opportunities to optimize Alberta's royalty framework.